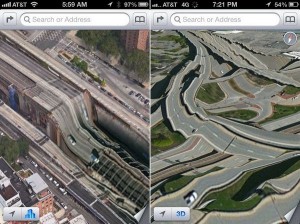 We've all heard, seen and potentially lolled (Laughed out Loud) at Apple's recent attempt at a challenge to Google Maps. If you haven't heard about this then I'll fill you in.
At the launch of Apple's IOS6, the mobile platform for iPads, iPhones etc, Apple also launched Maps. This really didn't go well and eventually let to the Project Manager's head for this particular venture, do the proverbial roll. You've just got to take a look at the image on the to see how badly it went.
It prompted a raft of internet "memes" and several hundred Tumblr Accounts.
Whilst all this was going on in the foreground, Google must have been laughing up their sleeves as in the background they were already planning on rolling out Indoor Street view for Google Maps. Street view as we all know, is the ability to not only view streets from a birds-eye view but also "drop" onto the map and view a panorama of said street.
What Google eventually rolled out was the ability to view inside the venues of certain properties. A great tool for businesses to show what really goes on in the inner workings of companies. You can take a tour of offices of famous companies and even a few of Google's offices too.
A shock then, that Apple would appear to be plotting something similar. They've recently acquired an indoor mapping company called WiFiSlam. Many people have seen this as a potential competitor to Google's indoor mapping service, but others have questioned this as WiFiSlam also have a range of other technologies.
We'll be investigating this more tomorrow so stay tuned.
Posted by Greg McVey