New feature allows for safe searching of song lyrics without annoying popups and adverts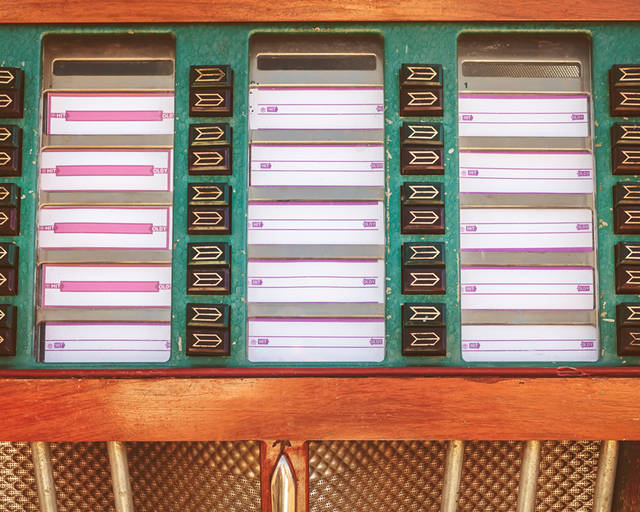 In the pre-internet age, the only way you could copy the lyrics of your favourite songs was via listening to the tune several times. Later, some album sleeves and cassette inlays started adding the song lyrics. In 1978, Smash Hits magazine was launched with a unique selling point: details of the song lyrics of chart-topping acts. This put paid to one of Bonnie Tyler's songs being known as It's A Hard Egg (the joys of AM radio).
Then came the internet. Smash Hits was redundant; song lyrics and more up-to-date popular music news – and albums – took up server space instead of shelf space at WHSmith. With lyrics, a number of sites including Metrolyrics, AZLyrics and LetsSingIt.com appeared. For many users, there was one problem: pop-ups and intrusive adverts. Bogus "Win An iPod" competitions. Spyware even. Thanks to Google, help is at hand.
Through a deal with LyricFind, a number of song lyrics will be seen within Google for the first time. The plan entails international licenses and a royalty rate per click for songwriters. Through Google, you would search for song lyrics by entering the song title and the group or solo artist, followed by 'lyrics'. In the past, this would have meant a host of results from dodgy lyrics websites.
As seen below, not so. A vast improvement if you ask us.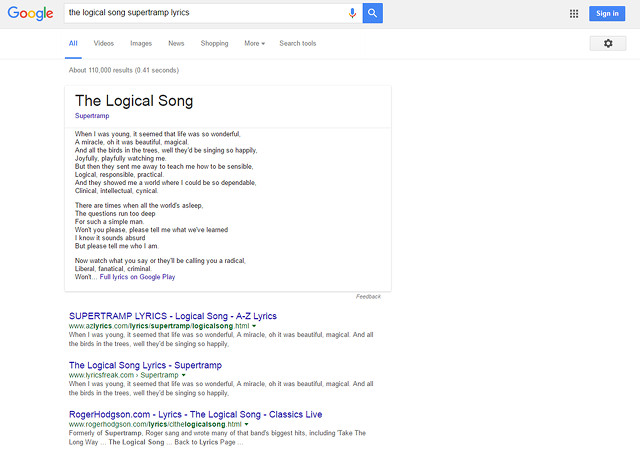 Clicking on the Google Play link gives us a cleaner screen layout with the lyrics seen in full. Once again, using one of Supertramp's best-known songs for our example, it also gives us a download link through Google Play. Seen below is the complete set of lyrics to The Logical Song.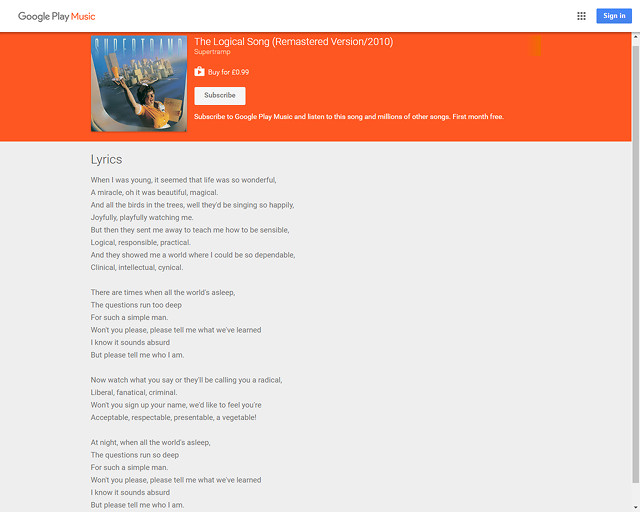 At present, the feature is only active on the American version of Google's results though will be rolled out to other countries in due course. Their treasury of song lyrics is far from complete, with searches for some UK Number One chart singles being omitted. Even at this early stage, we think Google have got a hit on their hands. Not arf!
Net66, 29 June 2016.
Lyrics credit: The Logical Song, Supertramp (Roger Hodgson, 1979).