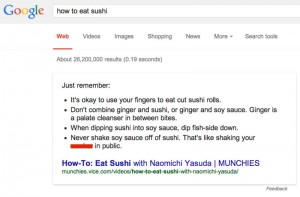 What do you think would happen if you were to ask Google how to eat Sushi? Well there's currently a very… unique piece of advice that Google offers for this query.
As we all know, Google tends to aggregate data for it's knowledge graph and quick answer function so that it can display to you what it thinks is the best answer for you rapidly.
But as we saw last week, this way of securing data and using it for the public can lead to some unexpected, and in some cases, inflammatory results.
The advice Google offers to you on the actions of eating sushi are roughly the following:
> You can use your finger to eat sushi rolls that have been cut.
> Don't combine sushi and ginger or soy sauce and ginger. Ginger is meant to clean your palette between bites.
> Dip your sushi fish side down into your soy sauce.
> Never shake Soy sauce off your sushi, that's like shaking your w**ker in public.
Fingers, fine. Ginger, understood. Fish side down, no problem. No shaking of w**ker in public, WHAT?
In case you're interested, you can discover the meaning of the offending word by googling it.
This again highlights the dangers of publishing content on websites without having a human review it. Admittedly Google probably has thousands of these quick answers and would have to hire hundreds and hundreds of people just to monitor a small percentage of them.
Still though, you think they'd have filters on certain words. Especially when the words are a bit, ahem, risque.
Blog Post by: Greg McVey