You'll be seen as an accredited business by Google
Your ads will show up at the top of search engine results pages
You only pay when you get a lead
You have full control over your ads
Ability to dispute illegitimate leads
Gain the trust of customers who are looking for your services
Get more leads, and better leads, than you ever thought possible
Pause your ads at any time to save money or take a break
What Are Google Local Services Ads and How Do They Work?
As a local business, it's incredibly important to be found online. But ranking at the top of Google can be difficult, and you never know if you're getting leads from your online efforts.
Not only is it difficult to rank at the top of Google, but it's also hard to know whether or not your marketing efforts are paying off. You could be wasting valuable time and money on ads that no one is seeing.
With Local Service Ads, you can become a Google Guaranteed local business. This means that your business will appear at the top of Google for services related to your business. And unlike other forms of advertising, you only pay when you receive a lead from Local Service Ads.
Google Local Service Ads are a form of advertising that allows businesses to promote their services on the Google search engine. You also have the ability to dispute leads you to believe are illegitimate such as spam callers or sales representatives and will get the cost reimbursed as credit on your account preventing unnecessary spending.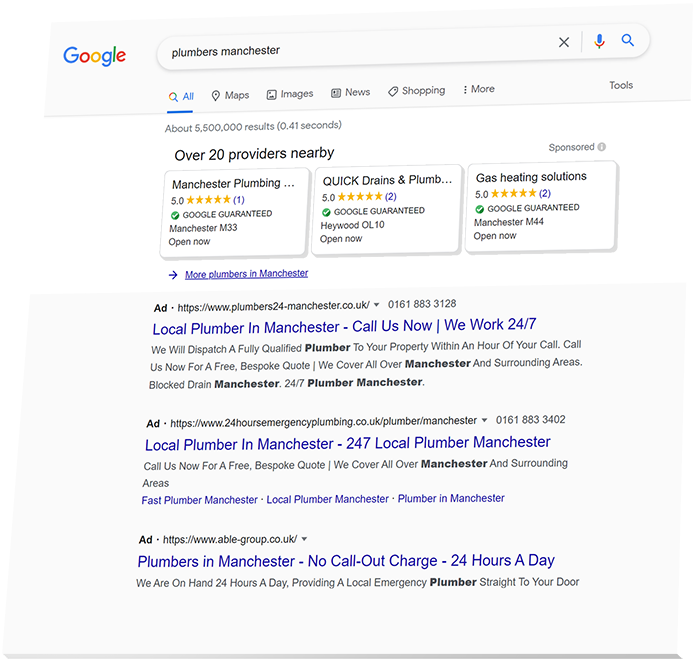 If You Are One of The Following Local Businesses – Get Started today!
Appliance repair services
Carpenters
Carpet cleaning services
Cleaning services
Worktop Services
Electricians
Fencing services
Flooring services
Foundations services
Garage door services
General contractor services
Handyman
Home inspection services
HVAC (heating or air conditioning)
Junk removal services
Landscaping services
Lawn care services
Moving services
Pest control services
Plumbers
Pool cleaning services
Pool contracting services
Roofers
Snow removal services
Tree services
Water damage services
Window cleaning services
Window repair service
How SEO Manchester LTD Can Help
Account creation and set-up
Regular monitoring of your Google Guaranteed status
Google Guaranteed eligibility document advise
Monthly reports on generated leads location, number etc
Monthly budget analysis and advice for cost-effective bidding
Ongoing account optimisation
Fast-track for Google escalations and dispute management
Dedicated account Manager
Lead Dispute Management