Google AdWords
Promote your website on Google Search, Shopping and Display Networks.

Google Shopping
Advertise products from your shopping feed in Google search results.

PPC Audit/Review
On average, our audits uncover 28% wasted ad spend, contact for your audit now.

Remarketing
Target previous visitors to your website with ads to tempt them to convert.

Display Ads
Show ads on other websites across the Google Display Network.

Social Media Ads
Use the advanced targeting systems of social media to find new customers.
PPC & Cost Per Click Advertising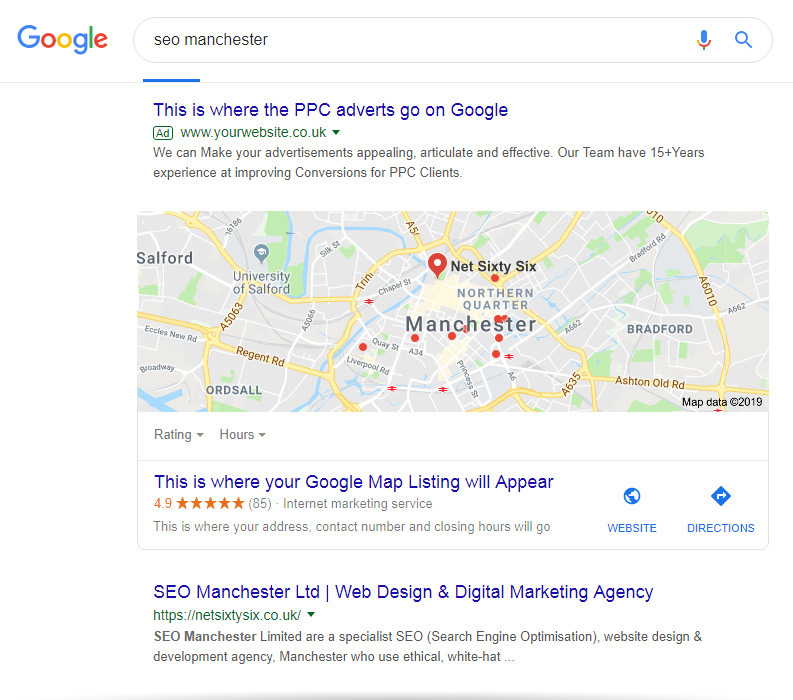 PPC is Pay Per Click advertising. This is the process of placing an advert on a website where you only pay for the advertisement each time it is clicked.
The most popular and widely known method of PPC advertising is Google AdWords. These are the results you see in the coloured box at the top of Google listings after you've typed a search term. The organic listings, products of SEO, appear just under the coloured box at the top of the page. You can see an example of this below:
You also get a raft of other advert listings down the right hand side of Google when you enter search terms and these are also PPC. The way to get your advert listed on Google is by setting up an AdWords account and then setting up a big amount for your budget. It works much in the same way an auction does, whoever bids the most is displayed higher and more frequently than the rest. You can manage your budget so no matter how many clicks you have in a day, the price will not go over a set figure.
You also select the phrases you want to appear for and can do this via broad match or exact match. For example, if you were to place a bid of £4 per click for the exact match phrase [PPC] then you would only show up in the results for an exact search for PPC. However, if you were to use broad match for the phrase PPC, this could see you showing up for such terms as Pay Per Click and PPC company.
The benefits of broad match are that you're matched up to more terms and appear more frequently for a wider variety of phrases. This can however use up your budget quicker than an exact match campaign that wouldn't show as often, so wouldn't clicked as quickly.
Weighing up the two options depends entirely on how you want to target your audience. If you want a precise campaign of people search for particular products to buy ("green case for iPhone 5"), then an exact match campaign would be perfect. However, if you're after a wider range of people who may be looking at more general products to buy ("iPhone 5 cases") then broad match would be better.
So if you're looking to boost product sales or advertise your services and think PPC is for you, get in touch!