Like every other question that there is about SEO, it could be answered with the phrase "Well, yes and no."
Why so vauge?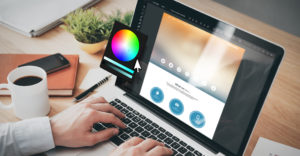 Google measures around 200 different factors about each and every website, and these factors, and the weight that Google put on each of the factors can change, without warning, as and when Google chooses.
The GoogleBot is an extremely clever animal, but even it cannot judge between design tastes. Style is something that cannot be scientifically measured, and is different for all of us.
What Google can do, and it does very well, is monitor how users use and interact with a website. If a website is user friendly and has some good design and style, users will spend more time on it, and view more pages, this is something that SEO bots can and do measure.
If your site has different pages for different subjects, has relevant text with a reasonable amount of attractive images, your user will visit your site, navigate to different pages and stay on the site longer.
This signals that users like your website, and the Googlebot will give Brownie points for this.
That covers the "Yes" bit of the above answer, so what about the no bit?
Let us assume you have done this and your website is well used and visited, and you score full marks in this area, that still leaves 199 different measures that you need to address so as to impress the search engines.
To get great results from an SEO marketing campaign you need to score highly in ALL of the approximately 200 measures, and that is where the value of choosing a skilled SEO practitioner lies.
Choose a professional SEO company, not surprisingly I would recommend ourselves in Manchester,
but certainly choose a company that understands that the art of SEO.