I was researching trends today and stumbled across this cool little screensaver. It's what is currently "Hot" on Google, or in layman's terms, what phrases are getting searched a lot. The panels swipe from side to side and up and down with the text appearing to be typed on there, before being wiped and replaced by another hot phrase. See the interface below: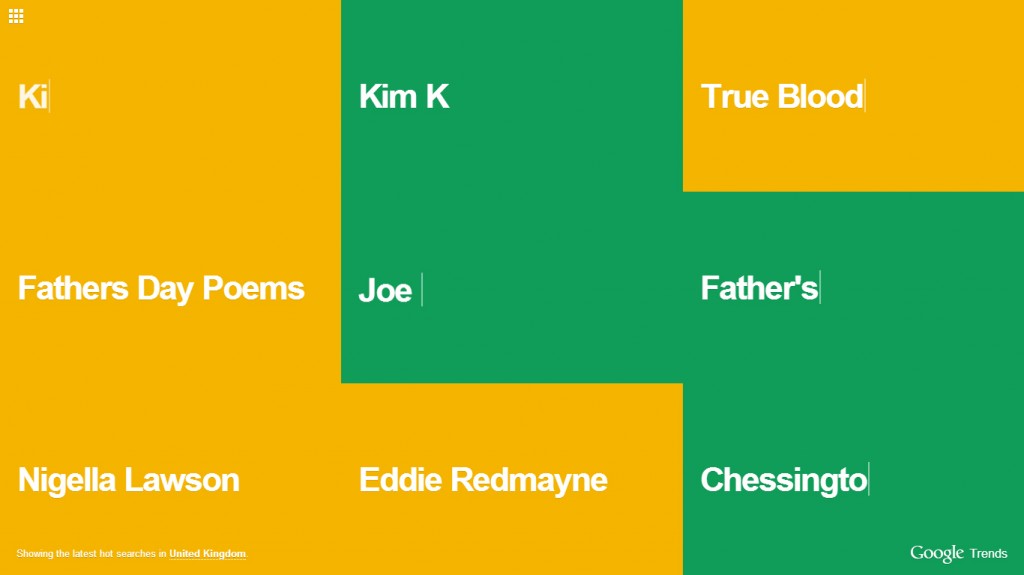 A static image doesn't really do it justice as the effects really are quite nice. They're sharp and clean and a great example of web design, loading dynamic content and displaying it in an attractive fashion. It work's great if you have a large display in your office, like a TV or screen and beats a bog standard clock or motivational poster any day.
You can also choose how much or how little you see. In the top left hand corner is a little box that, when you hover over it, expands and you can choose to display any way you want as long as it's within the maximum of the 5×5 grid.
You can also choose to view where the trends you're looking at come from. Naturally I selected the UK but you can see what's trending in the US, Russia, India, Hong Kong, many more and all at once if you so wish.
What do you do with spare screens around your office?
Blog Post by: Greg McVey.