Reports of Office 365 documents being seen on Bing and Google results
Beware of identity theft:
 oversharing on Office 365 could divulge sensitive information on search engines like Google and Bing. Image by ValterZ (via Shutterstock).
Sometimes on social media sites, we might share a few items that other would regard as embarrassing. For example, the debauchery of a Saturday night out. Or our political and spiritual beliefs. Or saying that Mr Blobby's eponymous Number One single was several times better than The Specials' Ghost Town. Imagine if something personal was seen on Bing or Google? It has been revealed that some Office 365 users had shared their private documents publicly.
According to Docs.com, the search engine element of Microsoft's cloud-based office suite, a number of users have been oversharing their Office 365 documents. Therefore, private and confidential information has been seen on search engine directories like Bing and Google. One of the biggest issues is the default settings of Office 365's cloud suite itself: Publicly Viewable is the default setting for publishing content.
There may be some conspiracy theories as to why the Publicly Viewable setting is kept on default, but we shan't go there. Before you create anything on Office 365, or on other cloud based productivity apps (Google Docs for instance), please remember to check the privacy settings and make sure your private documents stay private.
What would happen if we did the opposite? Well, every Tom, Dick and Sally will be able to see your confidential records. You could be at the mercy of hackers: this could affect your credit rating, your personal life, and ruin your bank account.
And finally…
As a brief diversion from this story, we are on the first page of Bing. If you enter 'SEO in Manchester', our website is in second place (within the organic results below the sponsored links). Just to blow our own trumpet (other brass instruments are available), here's a screenshot.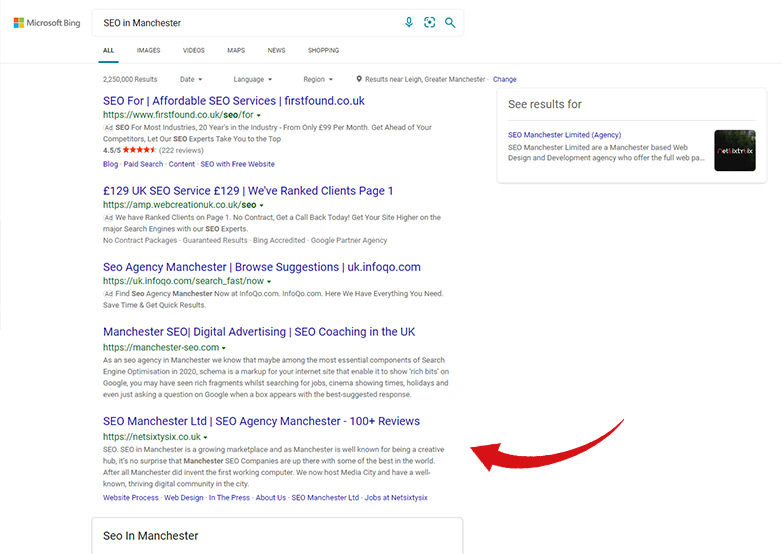 Net Sixty Six SEO:
Second on Bing for 'SEO in Manchester'. Yay!
Net Sixty Six SEO, 29 March 2017.