The world we live in today is constantly changing, especially when it comes to SEO techniques. These techniques shift very fast and it is not easy to keep up with all the changes.
Top SEO strategies that may have won your blog top rankings on search results in 2018 are now obsolete, and they can ruin your rankings.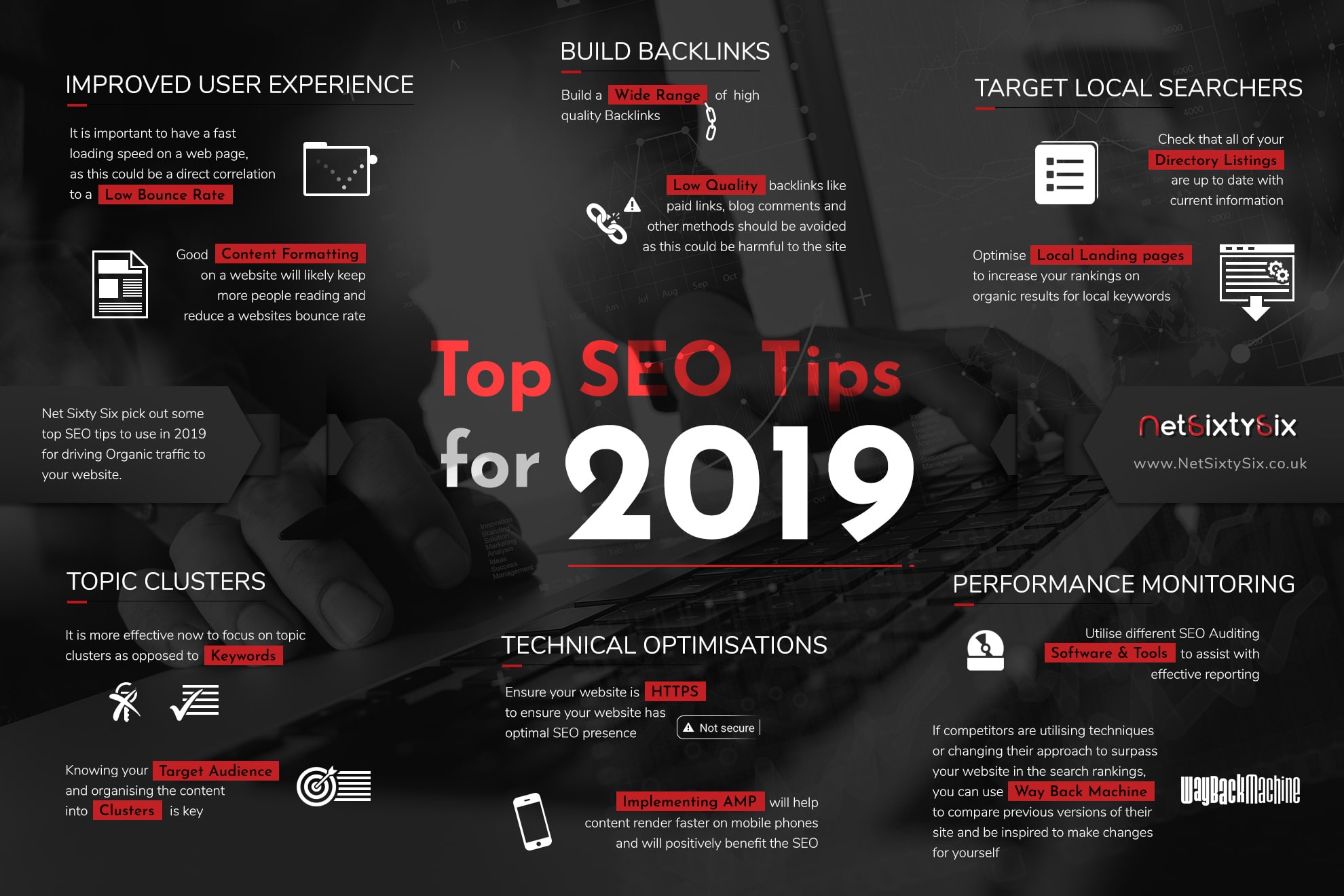 As you can see, there's a need to stay aware of the shifts in SEO tactics to remain on top. If you don't, you may fall behind very quickly. In this article, we have featured the top SEO strategies for 2019 to help you boost your rankings and increase organic traffic.
SEO:
Improved User Experience
Build Backlinks
Target Local Searchers
Topic Clusters
Technical Optimisations
Performance Monitoring
Link Building:
Guest posting
Offer help
Broken link building
Reviews
Unlinked Mentions
Discounts
Submitting testimonials
Infographics
Improve User Experience Throughout your Whole Website
Search engines always want to show high quality results for a query asked by a user; therefore you will need to know how to show the best results to optimise your website for SEO. If your website is not good enough, you will have a hard time ranking for target keywords. No user wants to access a spammy web page that takes a long time to load. You can improve user experience and boost your rankings by: enhancing readability, use bucket brigades, use the inverted pyramid style of writing, analyse current website design and improve site speed.
Build Backlinks
Backlinks are crucial in the field of SEO. Google reports that links are the most important factors in determining search engine rankings. However, not all links are good, especially the poor-quality ones that are easily spammed. The best links are those which are earned via great-quality content, influencer marketing as well as outreach. However, be sure to diversify your backlinks. For each high-quality link you create, make another 5 that are of average quality. Let your site look natural and not too squeaky clean.
Target Local Searchers
According to Google, about 46% of all searches on this search engine are from users seeking local information. That may include local stores, opening and closing hours, addresses and telephone numbers. If you are an owner of a brick-and-mortar business, using local SEO and listings can help you remain profitable. You can capture local searches by: thoroughly checking your directory listings, creating and optimising local landing pages and using technical SEO for local search engines.
Pay more attention to topic clusters rather than keywords
Focusing on keywords alone may not be enough to land your website on Google's first page. You need to consider what users are searching for, instead of using your time to come up with different ways in which users will phrase a search question. You need to: know your targeted audience, organise all your content into topic clusters, and research keywords but don't over use them.
Get a hold over technical optimisations
It is crucial to have a well-functioning website without any glitches. You need to get a hold over your technical SEO optimisations so that you can rank well in 2019. You should switch to HTTPS, which is currently the most secure version of the former HTTP web protocol, to make it more difficult for malicious people to take advantage of your content. Moreover, you should enable Accelerated Mobile Pages (AMP), invest in Crawlers, and ensure your semantic mark-ups are error-free.
Carry out performance monitoring
Reporting and analytics are indispensable elements when it comes to enhancing your marketing tactics. It is important to know the content that is most appealing to your customers, the part of your site that experienced many UX problems, the page that was visited the most (or least) and why, the on-page SEO switches that led to the best rankings, and the kind of keyword you should put more focus on.There are a wide range of enterprise Digital Marketing tools which can help you monitor your SEO performance.
Do you need to improve your SEO in Manchester?  We can help you build better rankings in SEO in Manchester. Get in touch with SEO Manchester Ltd today to know how you can implement the latest strategies.