New hands free payment process tested in San Francisco
https://www.youtube.com/watch?v=Qxet1VdpOQ4
Imagine it's a fair to middling day in central Manchester. You have just arrived at Piccadilly station after an irksome commute. You nip towards the coffee shop in the main concourse. Then you find there's no change in your front pocket. Instead, you can pay from your smartphone, but they've brought this new-fangled system out, where the 'phone can stay in your pocket. Luckily, you have an Android device and it works with… Google Hands Free. Happy days indeed!
Google Hands Free has the convenience of contactless payment models, though with knobs on. Instead of waving your card or smartphone over a machine, you leave the device in your pocket. The smartphone interacts with a system from the cash register known as Near Field Communication. Any mobile device with NFC, Bluetooth and Wi-Fi capabilities is compatible.
How Google Hands Free Works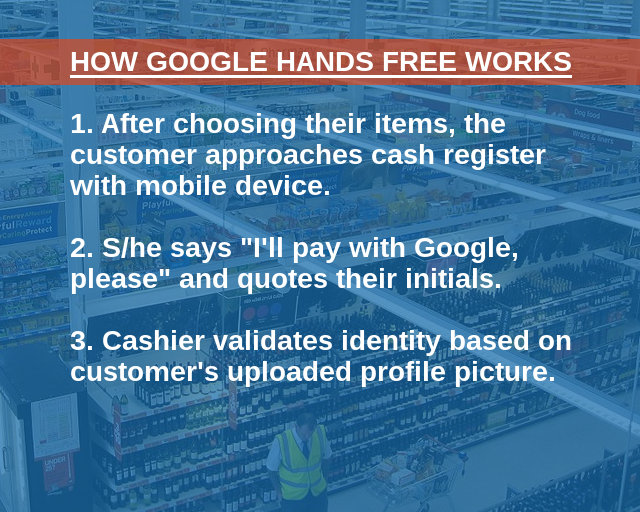 At present, Google hands free is only available for use in San Francisco. By the end of 2016, we could be seeing this in UK based businesses.
Customer approaches participating retailer: he or she may be greeted by a push notification saying "Google Hands Free is here";
He or she finds desired product(s): customer picks up item from the shelf or orders product from the counter;
Customer approaches till: with mobile device in pocket;
S/he says "I'll pay with Google": then quotes his or her initials;
Cashier checks validity of identity: an appropriate uploaded profile picture is used to confirm his or her identity;
System debits his/her account with agreed amount: he or she leaves with desired item or enjoys their choice of caffeinated beverage.
Will it catch on in Manchester?
In the next five years, the use of contactless cards and hands free payment methods will become the norm. More than half of UK transactions are made with debit cards. We think Google Hands Free and similar systems could work in public houses or sandwich shops, especially where the customer is on good terms with front line staff. On reaching our shores, we think the same £30 limit for contactless cards may be retained.
We at Net66 thinks it will be a boon for city dwellers and close-knit communities. It'll be a quicker alternative to fumbling for change, especially when all you want is a pint of milk or a loaf of bread.
Net66, 03 March 2016.