There have been a lot of big updates form Google recently. Not least of which is the completely new algorithm they've introduced called Hummingbird. This Algorithm pays closer attention to sentences as a whole rather than noting which keywords are used and bringing up relevant results for them. This helps Google answer questions better when asked.
Another big update is the integration of two of Google's most advanced search features. Their personalised search service Google Now and the Knowledge Graph. Personally I love Google Now, it practically second guesses me. I pull out my phone wondering when my next meeting is, and it's first on the display of "Cards".
But now Google are making this and even bigger feature as you can get Updates from people who have the Knowledge Graph Card. I.e. when you search for someone on Google and it brings up a little bio on the right hand side of the page, that's the knowledge graph guessing at what you want and bringing up a snapshot of the information you're after.
But if you're running a search on a device with Google Now on it, then you get something extra. You get a little "Keep Me Updated" box that you can tick. So say you're looking up Matt Cutts on a device that you have Google Now on, then you can tick a box to make sure next time he updates his blog, you're notified. Perfect for the SEO on the go. See the below image: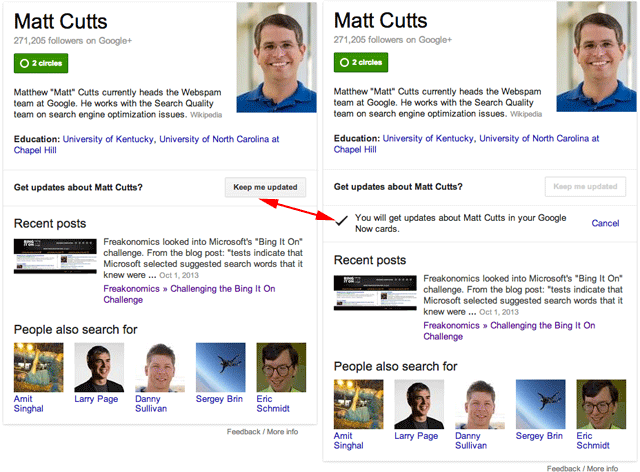 So, do you use Google Now? Who have you signed up with?
Blog Post by: Greg McVey
Image Courtesy of Search Engine Roundtable