Only 24 indexing days till Christmas – and 31 till 2016
Winter has come to Manchester courtesy of Storm Clodagh.  For December, it is usually colder in these parts, but the weather has been more autumnal.  This apart from 80 mph winds in nearby Rochdale and Denton and heavy rain throughout the UK.  At this moment, too warm for seeing penguins in Albert Square, yet Olaf and Elsa managed to appear in Stalybridge (but that was for a Christmas lights switch-on).
Between now and the end of this year, Google is preparing its latest set of search engine updates. This year (of which there's only 31 days left at this time of writing) sees the return of its Penguin update.  Since 2012, the Penguin Update has been about saving the internet from poor quality content. Not only spamming, but also inaccessible content – particularly non-responsive websites.  This April saw a shift towards Mobile Friendly websites in Google's rankings.
Whereas the previous pro-Responsive Web Design related changes propagated gradually, the latest Penguin update will be faster.  Any websites otherwise 'pecked' by Penguin could re-enter Google's listings is s/he has rectified the problem.  Spammy or broken links for example, if eradicated from your website, could re-enter Google's listings almost immediately.
As with previous Penguin updates, quality content is key to maintaining one's position on Google. Something which we at Net66 is passionate about to the hilt.  As well as building an all-singing all-dancing responsive website, edifying content is the secret sauce behind any SEO campaign.  It is all part of the user experience along with glorious graphics and fast loading pages.
To avoid being pecked by Penguin this year, we recommend…

Optimising Your Links
This doesn't necessarily mean adding keyword phrases to every inner page filename (i.e. wallpaper-aboutus.php for a decorating shop instead of a normal aboutus.php). It means a comfortable mix of non-descriptive and descriptive links.  For example, your About Us page would be aboutus.php; using an inner page for, for example, a decorating shop's Vymura Wallpapers page could be vymura-wallpapers.php.
The use of a content management system will greatly help matters on complex sites.  It also takes the heat out of designing for several smartphone and digital tablet varieties.  We at Net66 are fans of WordPress, for its flexibility and support base.  One that is also the world's most popular CMS.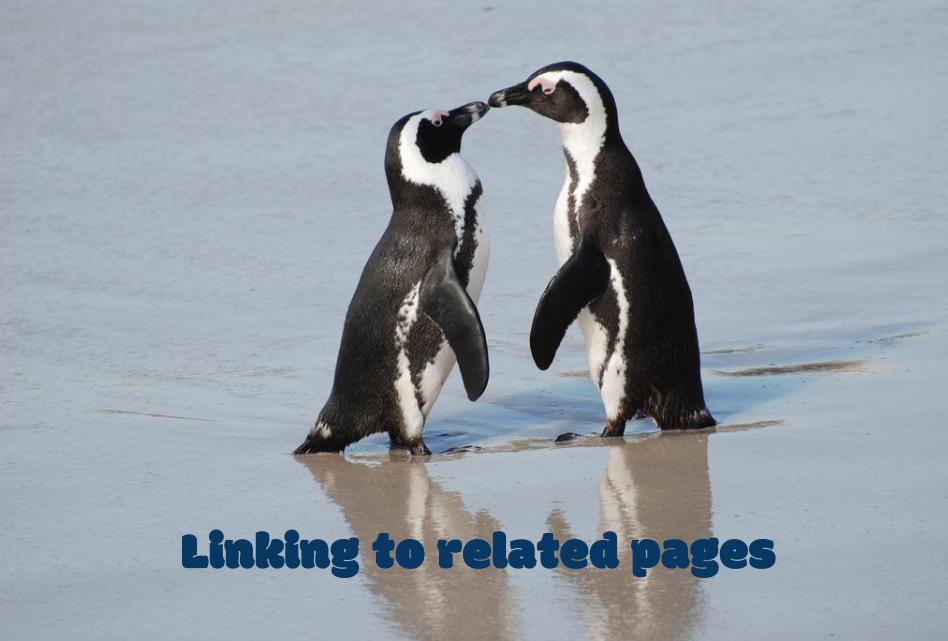 Linking to related pages could mean two things.  Either the linking of external sites (i.e. as citations for lengthy articles or suitable books or websites), or within your website. Supposing we had a blog entry on blown vinyl wallpapers, there may be a companion piece on Anaglypta.  Where mentioned in our blown vinyl blog entry, could be a link to the entry on Anaglypta.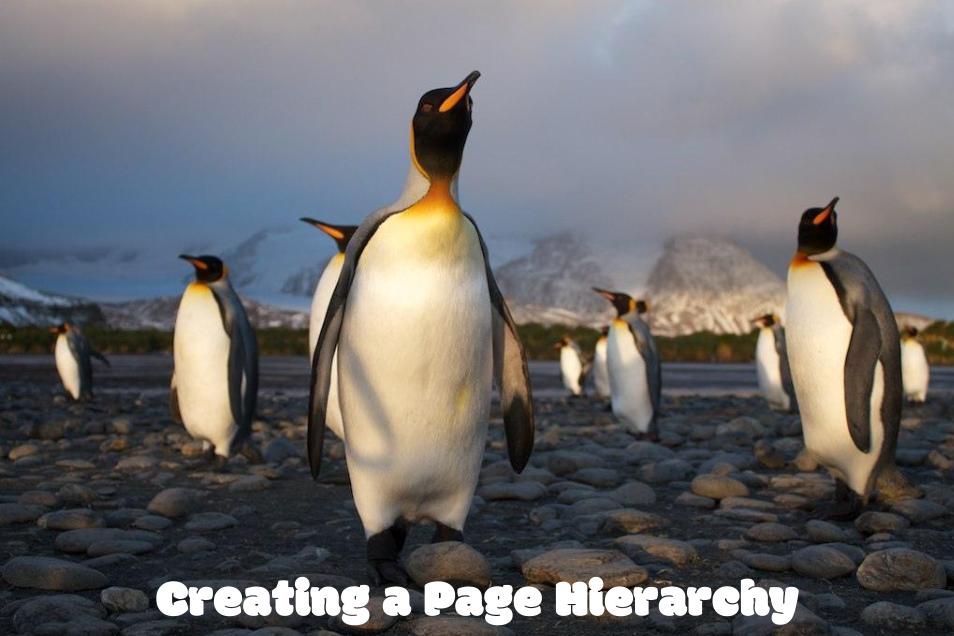 Creating a page hierarchy in the development of any new website is important! We recommend planning rough ideas out on paper first of all, not only for the aesthetics but also the mechanics – especially the link structure. Any well-meaning website needs to have a clear distinction and hierarchy between the main pages and its inner pages.  Not only on the grounds of establishing an hierarchical structure but also on the user experience.
Therefore, all pages should have the main page links within its primary navigation structure.  Some inner pages, important enough for links on all pages, though not for the main navigation section, could be placed within a footer navigation menu.  Lower level inner page links could be placed within the main pages or form part of a pull down menu.
Net66, 01 December 2015.
Image Credits:
King Penguin Chick at Salisbury Plain, Liam Quinn (2011), the Bay of Isles, South Georgia. (Creative Commons License – Some Rights Reserved)
Penguins on Parade by David Stanley (2014), seen on Fortuna Bay on South Georgia Island. (Creative Commons License – Some Rights Reserved.
Paul Mannix (2007): A pair of African penguins, Boulders Beach, South Africa. (Creative Commons License – Some Rights Reserved).
Brian Gratwicke (2012): King penguins, Salisbury plain in the Bay of Isles, South Georgia. (Creative Commons License – Some Rights Reserved).