Review section builds on paid advertising options
For many people, our chosen plumber, bakery, takeaway or minicab firm can be determined by word of mouth. Sometimes, the odd status update on Facebook can sway our preferences.  A review site like Trip Advisor or Yelp is another source.  Since yesterday, Facebook became another source.  Through Facebook Professional Services, it offers access to customer reviews, with links to each company's Facebook pages.
Furthermore, proper regional searching is available.  Using the GPS of your device or the IP address of your computer, or the location of your WiFi box, it sets search preferences to your area.  With our company being based in Manchester, we are treated to a picture of central Manchester.  Doing a search for plumbers in Ashton-under-Lyne sees the hero graphic displaying a picture of Ashton Town Hall. (For smaller towns, images aren't always available).
On first look, we are given two fields to enter.  Firstly, we search for a given field, then Facebook suggests a suitable category.  Entering 'bakery' sees Facebook suggesting "Bakeries".  In our second field, we choose a place name, for example Stalybridge.  If the place name is valid, the blue Search button is clickable.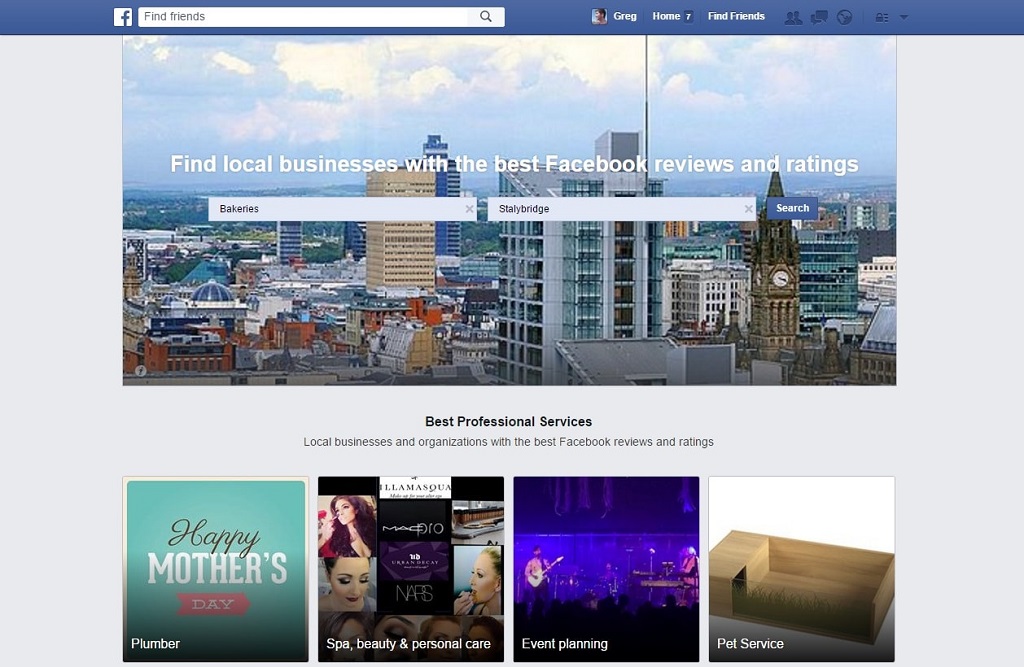 Afterwards, Facebook would return the results of all bakeries in Stalybridge.  All businesses listed in Facebook Professional Services cover those which feature on Facebook via a business page (which is free to set up).  Each entry has reviews that have been accumulated over time on their Facebook pages.  You can also click on location maps to find (for argument's sake) your nearest bakery.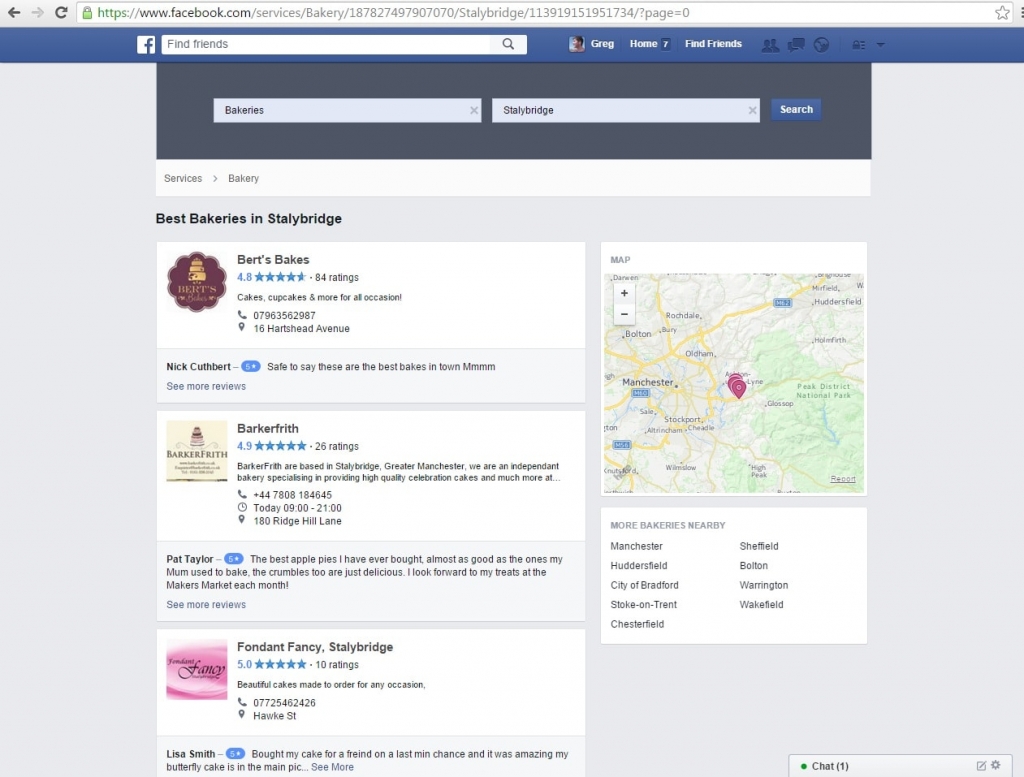 Facebook has historically used Bing Maps for its location searches.  With Facebook Professional Services, Here.com is their preferred platform.  Created by Nokia, it is Bing Maps but name (the Finnish mobile phone company being part of Microsoft).  Here.com no longer has Nokia's involvement: it is now an open platform funded by Audi AG, BMW Group and Daimler AG.
Facebook Professional Services: The Yelp killer?
In a nutshell, Facebook Professional Services offers a central point for customer reviews.  The groundwork had already been laid with business' pages part of the social networking site for over six years.  Reviews were introduced later.  With Facebook's business pages being an attractive proposition for small businesses (sometimes used instead of a website), their new approach could kill Yelp.
Facebook have made their intentions known in an article published in Fortune magazine (08 September 2015).  Their Messenger app allows interaction with businesses via the telephony option.  Two new types of business pages have been created: Shop, and Services.  The former allows for e-commerce integration.
With its high take up on mobile devices and brand recognition, Facebook Professional Services could be the Yelp killer.  Facebook's reach is tremendous among personal and small business users.  Away from its modest origins, it is now a billion pound advertising platform – $3.8 billion (£2.5 billion) revenue.  At present, its worldwide figure is modest in comparison with ITV's latest results – £2 billion in the UK alone, thanks to this year's Rugby World Cup.
We think Facebook Professional Services is a welcome addition to Mark Zuckerberg's social networking colossus.  It gives the site some central coherence as far as advertising and reviewing businesses is concerned.  A much needed one-stop point for choosing meat pies as well as MIG welders.  With mobile searches eclipsing desktop search enquiries, also a useful travel planning tool.
Some of us remember when the Yellow Pages or the Thomson Local served a similar role. Back then, a 'poke' was the opposite to a 'peek' (i.e. POKE 53280,1 turned your screen border white on a Commodore 64 microcomputer). Searching for a plumber 2015 style is superior to doing so 1985 style.  Plus we no longer need to worry about losing 'phone numbers the same as we used to do.
Oh, and about that bakery recommended by a fellow colleague: time to get the meat pies in for dinner. We'll see if Facebook have got the address right.
Net66, 15 December 2015.