I've always been a big fan of Twitter and Pinterest. They're easy to use, fun and, importantly to me, visual!
Facebook do have a news feed full of images admittedly, but there are now so many promoted posts on Facebook that sometimes I don't look at things properly as my mind will assume it'd promoted and I switch off.
Pinterest, however, is based solely on images. So even if an image is promoted, it's not likely to display very different at all. In fact, Pinterest are taking such a gradual approach to their adverts that they (initially) won't be shown in your pin feed at all.
They're restricting adverts to certain users and only displaying them in categories and search pages. Admittedly you do search a lot and you quite often find yourself browsing categories, but your pin feed will remain your own for now and there will be no sponsored pins in there.
The advertisers have been limited too. But don't expect to get an invite any time soon, here's a list of the brands that have been approved to use these paid ads:
ABC Family, Banana Republic, Expedia.com, GAP, General Mills, Kraft, lululemon athletica, Nestle (including Purina, Dreyer's/Edy's Ice Cream, Nespresso), Old Navy, Target, Walt Disney Parks and Resorts, and Ziploc.
Twitter have also been in the News this week as they've released a new "Mute" button. This is a feature designed to primarily improve the user experience for Twitter users.
If you follow someone but find yourself getting bored by their Tweets, then you can make the choice to unfollow them, which might upset your friend who posts a photo of literally every meal they eat and tag it with #epic, or you can just mute them. Their feelings and hashtags remain undamaged and you no longer receive updates from your friends diet.
You can mute users directly from one of their tweets or you can visit their profile and mute them that way. See below: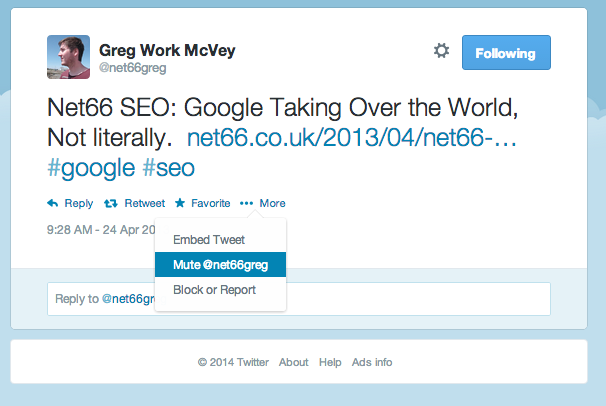 Blog Post by: Greg McVey